Known as Les Alpes in French, Le Alpi in Italian and Die Alpen in German; when it starts to snow, this European region is fondly called 'Europe's Winter Playground'.
So let's wrap up warm and glide out onto the slopes for some serious, seasonal fun; or at least enjoy the views.
Whether you've only learnt to stand up in skis on a dry slope or are comfortable turning in powder up to your knees, there's something for everyone in The Alps.
From old-world chalet charm and lively après-ski at reasonably affordable prices (Austria) to glitzy, ritzy show-off your wealth and never blink an eyelid at the price you pay for efficiency and dignity on the mountain (Switzerland).
Maybe you prefer purpose-built resorts at altitude (France) or the leisurely Cappuccino and Grappa, fashion parades (Italy).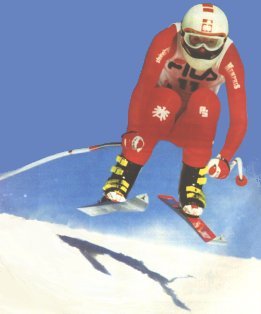 Alpine Sking © Michel - photos.travelnotes.org
If only it were that simple.
Like a baby lamb trying to get tender legs to support its already eager body, a keen skiing beginner will want to get out on the piste and ski. I know I did.
My friend had already broken a thumb on the dry slope matting in England but that didn't stop us from wanting to go up to the famous Piz Gloria (On Her Majesty's Secret Service) revolving restaurant at Schilthorn and then - after admiring views of the surrounding Eiger (3,970m), Mönch (4,099m) and Jungfrau (4,158m) peaks - wanting to ski back down to Mürren.
What a mistake!
Unlike in a James Bond film, there were no stunt doubles around to take our places; as we flew over the edge, down the start of a terrifying black run, with no director to shout cut. What we very soon had though, was an audience.
Is it possible to sweat in such cold conditions? You can bet your life it is. Should you not look down? Not look up? Whatever, everyone was looking at us.
This is not the way to thoroughly enjoy your first skiing holiday: head-first into a ski vacation from hell, with what seemed like Blofeld (Telly Savalas) and his henchmen in hot pursuit.
Luckily we had a Swiss Pass (which allows free travel on Switzerland's efficient transportation system) so we were soon leaving the high peaks of the Jungfrau Ski Region to something a little more fitting for a couple of novice skiers - the Alpes Vaudois; or more to the point, Leysin.
With the Mayen ski area located at 1,800 metres and the nearby peaks just a little over the two thousand mark, we enrolled in skiing lessons for the next few days and learnt how to stop properly on snow; without needing to drop the ski poles and hit the ground to do so.
If you're a novice skier, or a parent with children, you might want to think about similar resorts.
Most of the so-called beginner ski resorts have a few red (intermediate) runs for you to aim toward and even a challenging black run to test your nerve. Leysin also has a 'freestyle park' for the snowboarders (two, if you include Les Parchets - a 10 minute ski bus ride from Solepraz).
Lech-Zurs (Austria) is where Diana, Princess of Wales chose to take the young Princes, William and Harry. The ski resort of Lech has a touch of class, an excellent ski school, and - for fast learners - links to the Ski Arlberg region around St Anton; famous for it's après ski and schnapps-chasing, beer-drinking Aussies on a working winter holiday.
Austria's Zell am See-Kaprun region prides itself on a tradition of catering to, and providing special packages for, families with children; right down to the playful ski lessons for kids who can barely walk.
If your skiing is less about the charm and more about the purpose then France might be ideal for you.
British skiers can comfortably take the car down the French Autoroute, or use one of the budget airlines serving Geneva (easyJet), Chambery (Snowjet), and Grenoble (Ryanair); for easy access to Alpe d'Huez, Avoriaz, La Plagne and Les Gets.
We soon felt comfortable enough on skis to visit one of Switzerland's most famous resorts - Zermatt - for Christmas, then catch the train back down along the Rhone river to party with the chalet girls in Verbier; on New Year's Eve.
The Verbier chalets are very popular with the British; although not many of them would think about staying at The Lodge - Sir Richard Branson's mega-expensive, pay-to-stay, mountain retreat.
The people who will get the most out of Verbier (apart from friends of the Virgin magnate) are those who like to get out the piste-map and really explore the mountains and valleys (Les 4 vallées) on skis; once they've beaten the lift queue out of the village. This is my idea of what a lot of intermediate skiing is all about; an adventure of discovery on the snowy mountains - with a few restaurant stops along the way for good measure.
Looking back up the valley, Zermatt is one of my all-time favourite ski resorts.
If taking the red mountain train up from Brig isn't enough, one arrives to streets deserted of cars. Electric taxis and horse-drawn carriages wait at the station and soon you're rewarded with a glimpse of the Matterhorn. This is chocolate-box Switzerland.
The skiing is varied enough for everyone and there is a wide choice of accommodation for all budgets. Yes, there is a place for budget travellers in Zermatt too and that's why this Swiss ski resort really gets my vote.
Brig is quite a hive of activity during the ski season as trains come around Lac Leman from Geneva, through the mountains from Bern and across the border from Milan. Ski travellers not going up to Zermatt might prefer the south-facing slopes of French-speaking Crans-Montana, opt to take a yellow Postbus up to the traditonal Alpine village of Saas Fee, or catch one of the other red mountain trains - the Glacier Express - over the Furka and on to glitzy St. Moritz.
I've been on plenty of rail journeys in my time but this one is special. To really do the Glacier Express in style is to travel the whole journey from Zermatt to St Moritz (in Graubünden); leaving just after breakfast and arriving in time for an evening aperitif. Even if you can't afford to stay at Badrutt's Palace, it's worth stopping by for a little cocktail.
Once over in the Graubünden part of Switzerland, and you've still got any money left after a visit to St Moritz, you might find yourself glancing at various timetables out of Lenzerheide or Chur, and I wouldn't blame you. Davos/Klosters, Arosa, or Flims-Laax?
Getting to Arosa (on the small railway from Chur) is probably the most romantic, especially if the trees are embracing some fresh snow as they did the first time I made the journey up the valley; Laax (by bus from Chur) will impress most intermediate skiers but for me it has to be Davos.
When I lived in Zurich for a while, I'd spend many a winter weekend in Davos; although I never bumped into Prince Charles. The best part is skiing across the Parsenn and down into Klosters; from a sprawling town patronised by world leaders to a mountain village preferred by Royalty.
Connecting Switzerland with Haute Savoie, in France, is the Portes du Soleil region. The contrasts between quaint Champéry (Switzerland) and purpose-built Avoriaz (France) couldn't be greater, or even more chilling; to the aesthetically sensitive.
Down into Savoie, another large ski area for improving beginners and progressive intermediates is Val d'Isere and Tignes. At 2,100 metres, Tignes (or Espace Killy) is all about skiing. While Val d'Isere, lower down (1,850m) and a few valleys over, still retains some of its soul.
It's not all ice-cold and bland in the French ski resorts as there always seems to be a little balance; especially in the larger ski areas.
At 2,300 metres, Val Thorens is the highest ski resort in Europe; the Meribel chalet scene could be called the beating heart of Les 3 Valees; and some of the best dining can be experienced in Courchevel.
The most expensive hotels in the French Alps seem to be grouped around Courchevel 1850, which makes for some fine people watching. If the snow is good, be sure to ski right down to the oldest village in the area, Courchevel 1300 (Le Praz).
But for me, the nicest ski village in France has to be Megève. Unbelieveably, it's just off the Geneva to Mont Blanc motorway and very easy to get to. Miss this one at your peril.
If extreme skiing is your thing, then keep on driving to Chamonix; a hardy town where everyone seems to breathe Mont Blanc (4,810m) - the highest mountain in the Alps.
Many people come to Chamonix just to ski the Vallée Blanche - a 20km off-piste ski route, that descends some 2,700 metres in altitude. An even greater challenge is to ski the Chamonix to Zermatt Haute Route.
Not to be taken lightly is La Grave; found along the D1091 between Les Deux-Alpes and the Col du Lautaret, on the road to Briançon. This is not where you would deliberately plan to go on a skiing holiday, as there are no marked runs and you descend from where the cable car drops you off (3,200m) at your own risk.
On the other side of the Mont Blanc, in Italy's Aosta Valley, Courmayeur struggles to compete with her French sister, Chamonix.
To be honest, if I'm going to ski in Italy I prefer to head east to Trento and along the Rendena Valley for a good day's skiing in Madonna di Campiglio before continuing on to Bolzano and The Dolomites.
There's no better place to stay than Cortina d'Ampezzo. Even James Bond made an appearance here, in 'For Your Eyes Only'.
When skiing the Val Gardena Sella Ronda don't forget to stop for an afternoon Grappa, in Grappa. What a truly wonderful way to pass a sunny Winter's day.
If you like to party and have already been to St Anton (Austria), then maybe consider Kitzbühel in Tyrol - off the main road between Innsbruck and Salzburg. Crossing back into Austria from Italy means we've pretty much done the Alpine ski circuit.
See You Next Year
When you visit The Alps you might find it so hard to choose just one resort to ski in, that you decide to travel around the valleys and mountains to really enjoy the varied pleasures of our Alpine winters like I did. You may even be back to hike and bike in the summer.
By Michel.

TravelTweet Directory:
Directory of travel tweeps on Twitter.
Related Links
Extra Ski Related Links
Snow Forecast:
Select country and then resort for snow forecasts and resort reviews.
Swiss WebCams:
A good place to check out live weather conditions.
Via Michelin:
Anyone who knows me will know what a fan I am of Michelin maps and this online route planner in particular. So much so that I've even added it to the Travel Notes toolbar. This Ski tab allows us to quickly plot the ski resorts on a map; complete with latest weather and webcams.
Regional Directory - Search The Web - Top Travel Blogs and Websites.

If you find Travel Notes useful, please take a moment to like us on Facebook and share with your friends on social media.