April 29th, 2017
Plitvice Lakes National Park, Croatia. One of the oldest national parks in South-east Europe and the largest national park in Croatia, Plitvice Lakes (Plitvicka Jezera) National Park was added to the UNESCO World Heritage List in 1979. http://p...
---
December 1st, 2016
The Bank of England admitted that the new five pound notes contain animal fat, sparking something of an outrage among vociferous vegans and vegetarians on social media. According to a Bank of England reply to a tweet on 28th November, 2016 the new...
---
November 26th, 2016
When I visited Havana, Cuba the Soviet Union was still intact and Fidel Castro was a very popular revolutionary figure around the Caribbean's largest island. Sure some people wouldn't talk about politics, even if they wouldn't be heard, but to out...
---
November 9th, 2016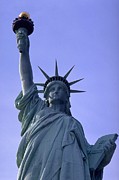 Independence Day USA On November 8th, 2016 the American people went to the polls and voted for change ditching the political elite, for a self-made billionaire who promised to make America great again. The American people voted for change in la...
---
November 7th, 2016
Waiting For Business. Cycle rickshaw driver relaxes at the side of the road and puts his feet up with a book, while waiting for customers. It's tiring work cycling overweight passengers around in the Indian heat, so it's not uncommon to see a y...
---
November 8th, 2016
US Navy anchors off Pattaya for some well deserved RampR in the sex capital of Thailand. During the day Pattaya looks like just another beach, but at night the sex industry cranks into over-drive along Pattaya's Beach Road. Pattaya is located o...
---
November 6th, 2016
Which walk to take Hooker Valley or Key Point' In early summer, the Hooker Valley route offers great views of the herb fields. The track includes swing bridges that look scary to some people but are fun for others. If you do start the Hooker...
---
November 3rd, 2016
Navigating the Grand Canal of China in Suzhou. Although many tourists come to Suzhou to visit its numerous canals, stone bridges, pagodas, and intricately designed gardens, it's hard not to be equally impressed by the amount of traffic on the city...
---
November 4th, 2016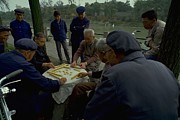 Old People in Mao Suits Playing Mahjong in Guangzhou, China. Commonly played by four players, Mahjong originated in China during the Qing dynasty. The game is played with a set of 144 tiles, based on Chinese characters and symbols. Each play...
---
November 5th, 2016
Vegetable Market in Kota Bharu, Malaysia. Vegetable markets are a great place for colourful pictures of local life. What could be more traditional that the morning ritual of shopping for fresh produce to put on the table. Here at this indoor...
---
November 2nd, 2016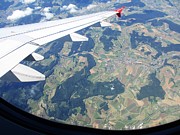 View from the aeroplane window during an Air Berlin flight over Switzerland, on the approach to Zurich Kloten airport, with another aircraft flying beneath the German passenger plane. The red and white airberlin logo graces the tip of the wing. ...
---
October 31st, 2016
Dai Girl Cyclists in Xishuangbanna. White projects purity, cleanliness, and neutrality. 'Six hours after we left Simao, the muddy Lancangjiang river appeared like a shadow at a lighted window. Another couple of bends and the curtains were flung...
---
November 2nd, 2016
Although many Western-style hair salons have opened their doors in Vietnam, it is still possible to cut corners on the streets of Hanoi for a quick short back and sides, an ear-clean, and even a little eyebrow pluck. Just sit in an empty chair on ...
---
November 1st, 2016
Outside the Russian Kremlin in Moscow. It is a sunny day in late winter. There is no longer snow on the ground but it is still very cold and spring feels a long way off. The lack of foliage on the trees allows us to see through to the golden on...
---
November 1st, 2016
Prince Charles as a young man playing Polo on Smith's Lawn in Windsor Great Park. The Prince of Wales became interested in polo as a child, watching his father, The Duke of Edinburgh, play at Windsor. His Royal Highness played in all four posit...
---